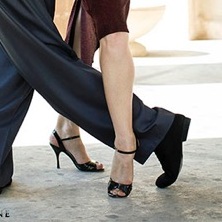 Special Events/Guest Intructors
A tango community is an association of dancers of all levels who attend social dances called "milongas" and informal practice gatherings called "prácticas." For a tango community to grow and survive, dancers must have enjoyable dance experiences in a friendly environment. We host five milongas and a free weekly práctica every month for alumni of the school and members of the tango community at large.
Our regular rotating DJs are Yulia Kriskovets, Anthony Lara, Gabriel El Huracan and Jaime Montemayor, but we often have guest DJs and our milongas sometimes feature live performances by musicians.
ESL MILONGA AT 18TH ST. LOUNGE
18th St. Lounge (ESL) is a restored town house mansion, and an enticing environment for dancers, with original hardwood flooring, high ceilings, and comfy antique couches and chairs all around. It has been legendary in DC nightlife for years—even the entrance is secret and unmarked! The door is to the left of the Little Beet Restaurant, enter and find your way up the purple carpet stairway. We are in the Gold Room, just off the main floor. Please note: Positive ID check at the door, attendees have to be over 21—no exceptions. Join the 18th Street Lounge Milonga facebook group for photos, videos and other updates.
Interested in taking a class before the milonga? View the class schedule here.
*If you take 2 pre-milonga classes, the milonga entrance is free.
MILONGA DE LUZ (SECOND FRIDAYS)
An exquisite monthly milonga that takes place every 2nd Friday at the beautiful John Wesley A.M.E. Zion Church.
Free parking on a first come first served basis is available at the Garrison Elementary School parking lot at 1200 S Street NW, Washington, DC 20009. Please park ONLY on the left side of the parking lot.
Interested in taking a class before the milonga? View the class schedule here.
Location:
John Wesley A.M.E. Zion Church
1615 14th Street
Washington, DC 20009
(intersection of Corcoran St & 14th St NW)
The entrance is on Corcoran St (not 14th St)
Date:
Milonga de Luz is currently on Hiatus. Check back again soon.
*If you take the pre-milonga class, the milonga entrance is $10. For students/seniors, $5.
Questions?
If you have any questions about our milongas, are interested in DJing, or volunteering at one of our milongas or practicas, please contact us!